DISEL GENERATOR SETS 50 Hz: 1600-4,00, KVA SERIES 4000
Our Series 4000 engines have been a global success story for more than 20 years. Power Generation, a core brand of Rolls-Royce Power Systems AG, uses MTU high-speed diesel engines with common rail fuel injection systems to produce generator sets that provide an industry-leading independent power supply. Why? Because when it comes to emergency power, ground or peak load supply, facilities and installation sites demand permanent reliable performance.

Our generator sets are built on our legendary and industry-leading MTU engines, and always feature state-of-the-art technology. Now in their fourth generation, they feature 12-, 16-, and 20-cylinder engine variants, depending on your requirements. In many cases, the recently introduced 20-cylinder variant features new, intelligently coordinated components, setting new standards for power and performance. The numbers speak for themselves.

DECENTRALIZED ENERGY SUPPLY: ANYTIME, ANYWHERE
No matter how different the requirements for decentralized energy supply are, Power Generation will always give you the best solution. Our Series 4000 diesel-powered generator sets can be designed flexibly depending on the application and location. They are suitable both for emergency power supply and permanent power systems, and can be installed as either mobile or stationary units. The performance range runs from 1,600 to 4,000 kVA. No matter which design you choose, our generator sets meet the highest demands in terms of quality, performance and fuel efficiency. Wherever and whenever they are needed, they ensure reliable power supply in the event of a grid failure – in hospitals, data centers and nuclear power plants, industrial plants, residential buildings, public facilities or decentralized power stations.
Depending on your requirements, we can offer generator sets or complete power system solutions. And because our generator sets meet all current industrial codes and standards, they can also be integrated into other systems without any hassle. Installation, operation and monitoring are simple. Thanks to the excellent load-impact behavior of the generator sets, the required energy is made available promptly. Fuel consumption is exceptionally low and vibrations and emissions are also minimized, making our generator sets ideal for the most demanding environments and challenging installations. One salient feature of our power system solutions is their improved maintenance intervals and long equipment life. And our commitment to world-class service and support helps optimize the lifetime value of your equipment. Power Generation: the technology you can trust.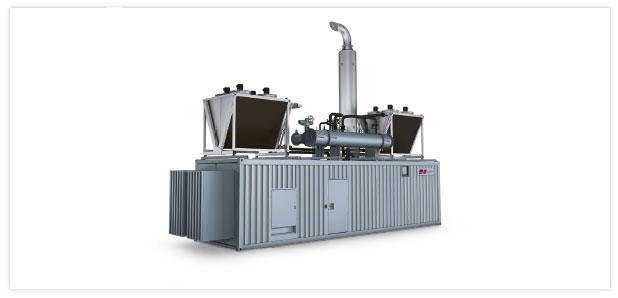 GAS GENSETS
THE GAS-POWERED SERIES 4000. ECONOMICAL, SUSTAINABLE, RELIABLE, FLEXIBLE.
THE NEXT GENERATION SERIES 4000 FOR NATURAL GAS
Operational exibility
— Quick ramp-up and ramp-down plus a wide range of partial load operation make this product a perfect match for grid stabilization applications.
— Fulfi lls the highest emission standards.

30% more power
— The new genset increases its performance by 30%, withstanding hot and humid conditions.
— Highly robust against derating Low lifecycle costs
— Good serviceability
— Favorable maintenance intervals
— Reduced oil consumption
— No additional exchange of cylinder
— 84,000 oH lifetime to major overhaul
— 84,000 oH lifetime to major overhaul (TBO)

Up to 44.4% el. efciency
— An advanced, proven Series 4000 engine optimized for natural gas operation. Its combustion chambers ensure top levels combustion chambers ensure top levels of effi ciency in its performance category
---